Many children with food allergies have asthma. It is a leading chronic disease in children. Both conditions are part of a progression of allergic diseases called the "allergic march."
Genetics, exposure to tobacco smoke, and illnesses can be involved in the development of asthma. But location may influence if a child develops asthma and how well it can be managed.
If your child has asthma, September is a critical month. Children are the most vulnerable to the effects of Asthma Peak Month, also known as the September Asthma Epidemic.


What Is Asthma Peak Month?
September is often the worst month for people with asthma, especially children. During this month, there is an increase in asthma attacks, emergency room visits, asthma-related hospital stays, and even deaths.
Several factors can affect people with asthma at the same time during September. Ragweed pollen, the most common fall pollen allergen, peaks in September in the United States. Mold counts go up as leaves collect outside. Children return to school and are exposed to respiratory illnesses, such as the flu, RSV, COVID-19, and colds. Extreme weather events and wildfires can also expose people to asthma and allergy triggers as well.
Many school buildings throughout the U.S. have poor indoor air quality. Many facilities need maintenance and repair, exposing children to asthma and allergy triggers and irritants, such as indoor mold, dust, and pests. Schools may also use harsh, strong-smelling cleaning chemicals, which can also trigger asthma.
To bring awareness to Asthma Peak Month, the Asthma and Allergy Foundation of America (AAFA) has released its 2023 Asthma Capitals™ report. This report analyzes data from the 100 largest cities in the U.S. to identify the most challenging places to live with asthma. Allentown, Pennsylvania, is #1 for 2023.
Asthma Capitals report ranks each city based on these factors:
Asthma prevalence (or occurrence)
Asthma-related emergency room visits
Asthma-related deaths
The report also highlights risk factors that can affect asthma outcomes:
Poverty
Lack of health insurance
Air pollution
Pollen counts
Smoking laws
Lack of access to asthma specialists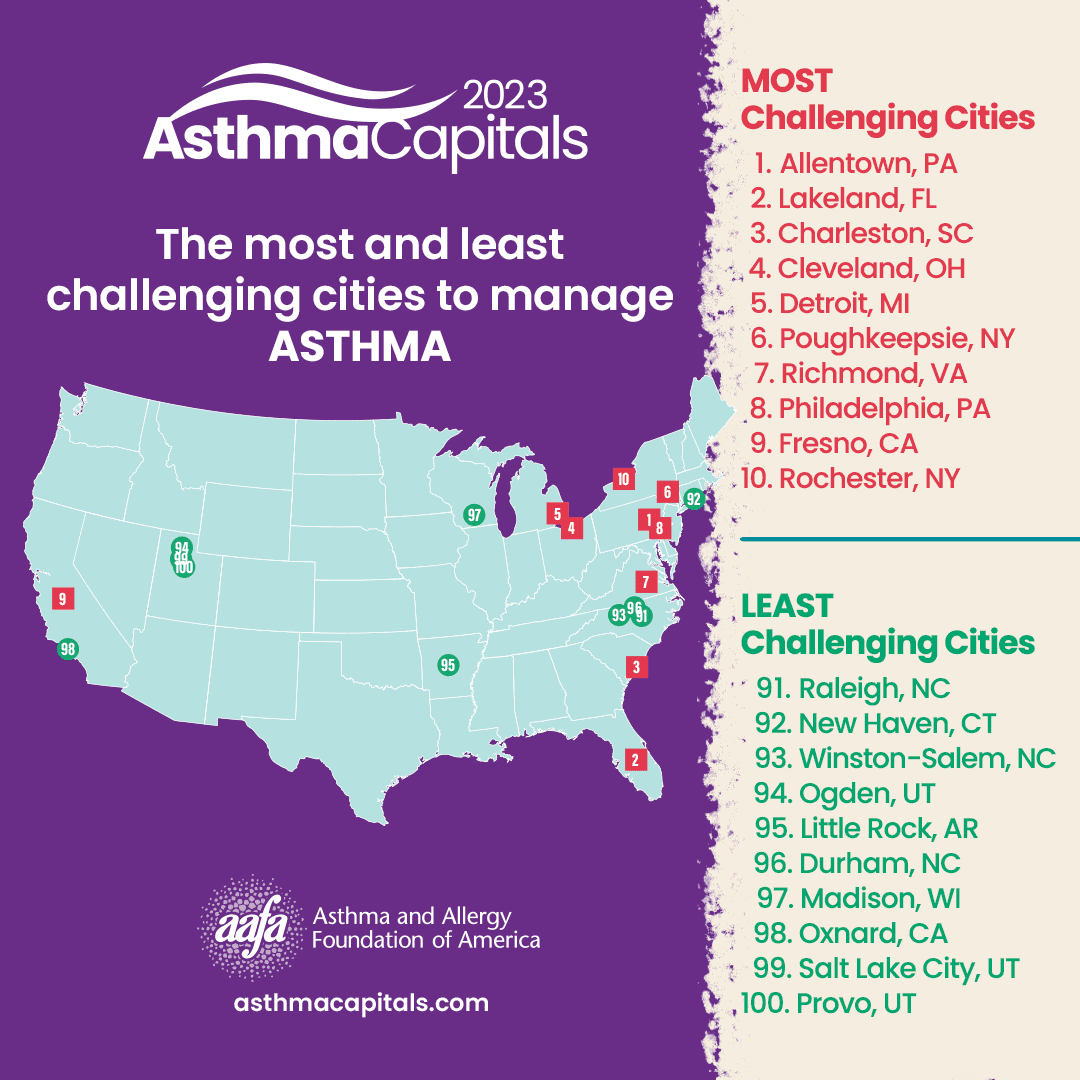 The top 10 Asthma Capitals for 2023 are:
Allentown, Pennsylvania
Lakeland, Florida
Charleston, South Carolina
Cleveland, Ohio
Detroit, Michigan
Poughkeepsie, New York
Richmond, Virginia
Philadelphia, Pennsylvania
Fresno, California
Rochester, New York
How Can I Learn More About Managing My Child's Asthma?
Managing asthma involves a multi-step approach. This involves taking asthma medicine and limiting exposure to your child's asthma triggers. Work with an asthma specialist to come up with the best plan for you. AAFA offers free resources to help:
The 2023 Asthma Capitals report is an independent research project of AAFA and is made possible by a grant from Sanofi and Regeneron.


How Can I Learn More About the Report?
AAFA publishes the Asthma Capitals report to raise awareness about the nationwide impacts of asthma. The report analyzes data from across the continental United States and ranks the 100 largest cities by how challenging they are to live with asthma.

Visit asthmacapitals.com to see the full list and to learn more about asthma management and risk factors.

Join our online community where you can get support for food allergies and asthma and stay up to date on news and research.