The Asthma and Allergy Foundation of America (AAFA) and MedicAlert have teamed up to help you manage your child's food allergies and prevent severe allergic reactions. (Kids With Food Allergies is a division of AAFA).
We're asking you to "ACT" to manage your child's allergies:
When you enroll in a new MedicAlert membership through this special link or via phone [1.800.432.5378], use the code AAFA and MedicAlert will donate 20% of your membership fees to support the mission of the Asthma and Allergy Foundation of America to save lives and reduce the burden of disease for people with asthma and allergies through support, advocacy, education and research.

What Is Anaphylaxis?
Anaphylaxis [anna-fih-LACK-sis] is a serious allergic reaction. Symptoms can occur after contact with an allergen and get worse fast. You must treat it as soon as possible for the best chance of improvement. This can also help prevent serious complications. Epinephrine is the firstline treatment for anaphylaxis.
Some symptoms of anaphylaxis include a sudden onset of:
Skin rashes and itching and hives
Swelling of the lips, tongue or throat
Shortness of breath, trouble breathing, wheezing (whistling sound during breathing)
Dizziness and/or fainting
Stomach pain, vomiting or diarrhea
Feeling like something awful is about to happen
Foods, medicines, insects and latex can cause a serious allergic reaction. There is no cure for allergic reactions. The only way to prevent them is to avoid the allergen.
"A" Is for Action Plan
When your child has food allergies, you need to know the signs of anaphylaxis and what to do if they have a reaction. Your child's doctor will give you an anaphylaxis action plan that tells you symptoms to watch for and what to do.
Always be familiar with your child's anaphylaxis action plan. Keep it with your child's epinephrine. Give copies to other caregivers, like teachers, babysitters and family members.
And always have two epinephrine auto-injectors with your child.
Anaphylaxis During the COVID-19 Pandemic
The spread of COVID-19 (the new coronavirus) has put stress on hospitals in many areas of the U.S. During this pandemic, take extra steps to avoid reactions and a trip to the emergency department. In light of COVID-19, remember:
Prevent reactions by reading food labels carefully and avoiding cross-contact with allergens.


Call your child's doctor and ask about possible changes to your child's anaphylaxis action plan so you know what to do before the need for epinephrine arises.


If a severe allergic reaction starts, or if your child accidentally eats one of their allergens, give them epinephrine right away.


If the symptoms go away after 5 minutes, call your doctor to find out if there is anything else you need to do. Watch your child for the next 4 to 6 hours for symptoms.


If the symptoms don't go away or come back, give a second dose of epinephrine and call 911.1,2

When in doubt, don't hesitate to call 911. First responders and health care workers will work hard to prevent the spread of COVID-19 so your child can safely receive proper treatment.
Prepare, Care and Share
Share this image and tweets to spread awareness:
In honor of Food Allergy Awareness, I'm making a pact to A.C.T. for Allergy. By working together, we can reduce severe allergic reactions: kidswithfoodallergies.org/act #act4allergy via @kfatweets Tweet This


A is for Action Plan: Make an #anaphylaxis action plan with your doctor. Know how to identify severe allergy symptoms and use your epinephrine auto-injector. kidswithfoodallergies.org/act #act4allergy via @kfatweets Tweet This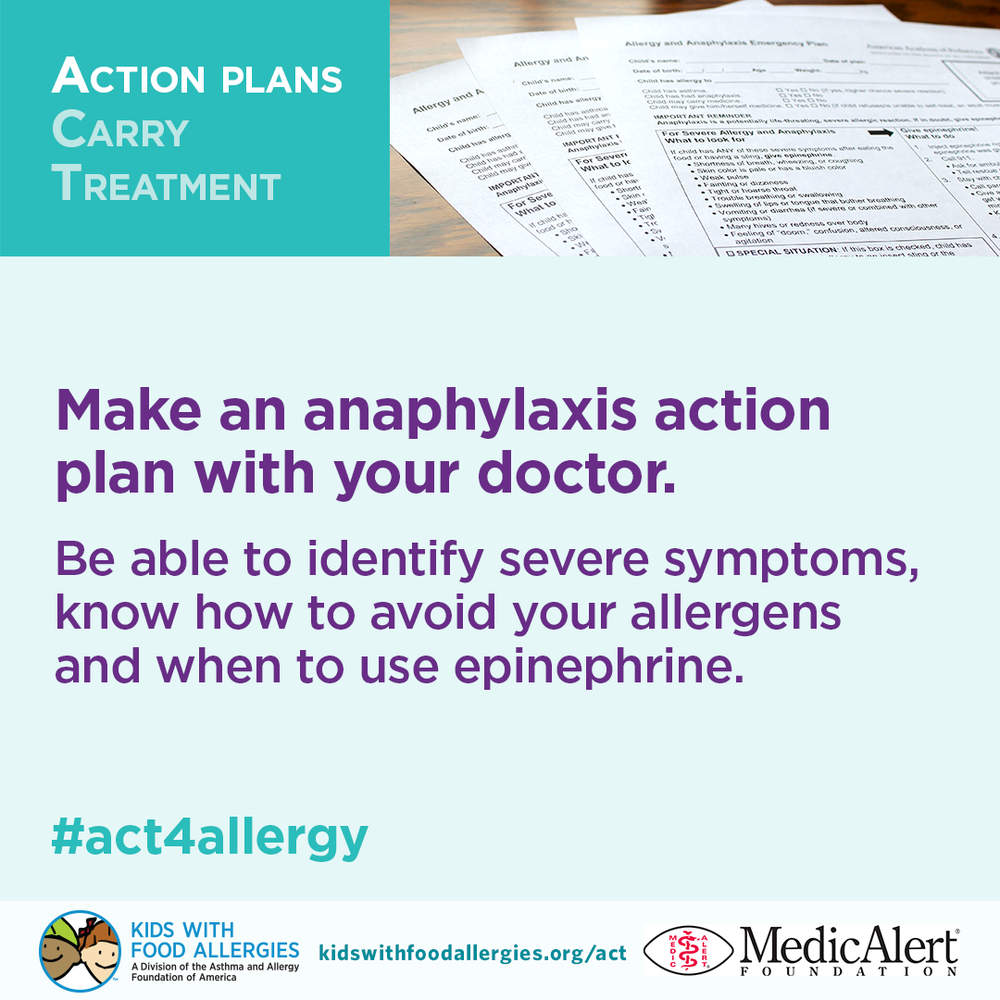 Get the support you need to manage your child's food allergies. Join our community to follow our blog for the latest food allergy education, news and research. Our community also gives you the chance to connect with others who manage food allergies in an encouraging and supportive environment.

References
1. Shaker, M. S., Wallace, D. V., Golden, D. B., Oppenheimer, J., Bernstein, J. A., Campbell, R. L., . . . Wickham, A. (2020). Anaphylaxis—a 2020 practice parameter update, systematic review, and Grading of Recommendations, Assessment, Development and Evaluation (GRADE) analysis. Journal of Allergy and Clinical Immunology, 145(4), 1082-1123. doi:10.1016/j.jaci.2020.01.017

2. Casale, T. B., Wang, J., & Nowak-Wegrzyn, A. (2020). Acute At Home Management of Anaphylaxis During the Covid-19 Pandemic. The Journal of Allergy and Clinical Immunology: In Practice. doi:10.1016/j.jaip.2020.04.022