Sometimes you just need a sweet treat! Mug cakes are easy to make and the perfect single-serve treat. Even kids can mix one up and microwave it.
When to make a mug cake:
Anytime you want a treat
As an after-school snack for kids (or grownups)
For a quick and easy dessert
For a party – let everyone mix up their favorite flavor
When traveling


Pro Tip
Measure out the dry ingredients for one serving into a zip top bag or small container. These are easy for kids to grab or to take when traveling. A small liquid measuring cup with tablespoon marking works great to measure out the liquid ingredients.
Basic Mug Cake Recipe
This basic mug cake recipe is great on its own or as a base for your favorite flavors. Have fun with different mix-ins, flavors, and toppings.
Ingredients
4 Tbsp flour mix
2 Tbsp sugar
1 Tbsp oil
3 Tbsp milk or milk alternative
½ tsp baking powder
Pinch salt
Directions
Mix flour, sugar, oil, milk, baking powder, and salt in a mug. Add other flavors and mix-ins as you choose, such as vanilla, cinnamon, and chocolate chips. Microwave for 1 – 1:30 seconds. Add fun toppings like sprinkles and icing.
Note: Microwaves vary in power level. You may need to experiment to find the best time to cook this mug cake in your microwave. For a low-power microwave (like a dorm microwave/fridge combo), you may cook it longer so the cake is not gooey.
Here are some of our favorite mug cake recipes:
I began making these cute little gluten-free (and top allergen free!)
chocolate mug cakes
for our rising sophomore to take to summer Calc B class and it was a hit also with my husband. Now, they request it often – so often that I devised a larger mix that I can whip up in a jiffy and even send to college.
– Heidi Bayer, MPH, AAFA Board Member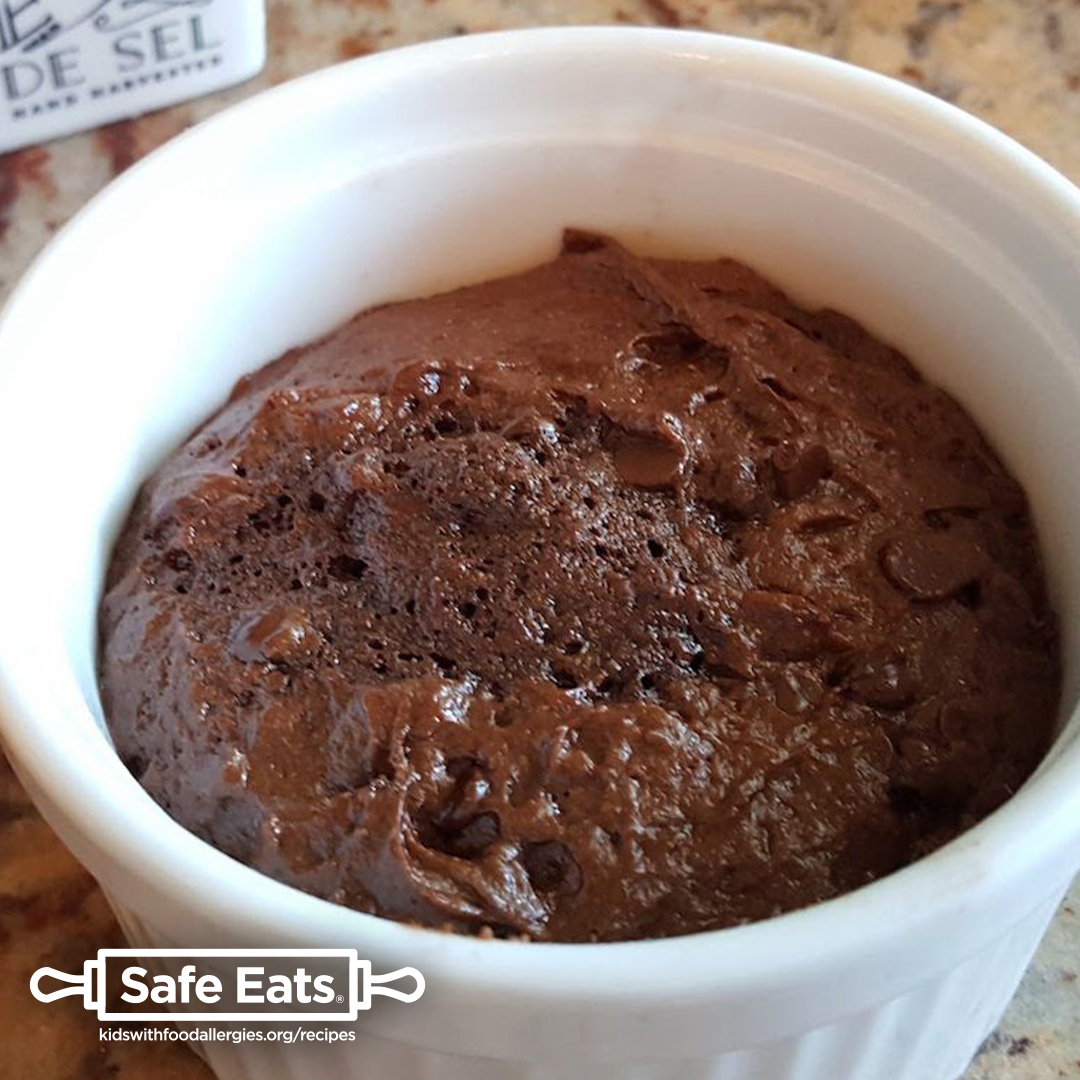 I love lemon and I love cake! But making a whole cake means I eat a lot of cake. This
lemon mug cake
is great for a quick treat with easy clean up.
- Kathy Przywara, AAFA Vice President of Community
I started making
cinnamon swirl mug cakes
when my little got bored with her breakfast options and asked for something different. Who doesn't love cake for breakfast?
– Nicole Gaghan, AAFA Art Director
Find more mug cake recipes in Kids with Food Allergies (KFA) Safe Eats® Recipe Collection:
Need help adapting a recipe or finding safe ingredients? Drop your questions in our Food & Cooking forum for personalized cooking help.
KFA's Safe Eats® Recipe Collection has nearly 1,500 allergy-friendly recipes. You can search by category and the allergens you need to avoid.