Update – Jan. 23, 2023
Have you or your child had an allergic reaction to a food that has recently changed and sesame was added to the ingredients? We want to hear from you!
We are communicating with the Food and Drug Administration (FDA), food industry, and the media. We are seeking personal stories by end of day on Tuesday, Jan. 24, 2023. Send your story to media@aafa.org.

The FASTER Act of 2021 made sesame the 9th major allergen in the U.S. and required food manufacturers to label sesame like the other 8 major allergens beginning in 2023. This was a long-fought victory that began for the Asthma and Allergy Foundation of America (AAFA) and our Kids with Food Allergies division back in 2008.
We are concerned and disappointed over reports of food companies intentionally adding sesame flour to products as a way to comply with required sesame allergen labeling. This practice ignores the purpose of the FASTER Act and is shameful way to avoid setting up food allergy-safe manufacturing processes that reduce cross-contact risk. (Cross-contact occurs when a food allergen comes in contact with food or an item not intended to contain that allergen.)
We do not have a full list of manufacturers who are adding sesame to their products and there may be regional differences. We have heard reports of Chick-fil-A, Olive Garden, Wendy's, Pan-o-Gold, Thomas' Breads, but it is very important to continue to read labels and ask restaurants. Some foods that were safe before may now contain sesame allergen. Be especially careful when reviewing baked good products.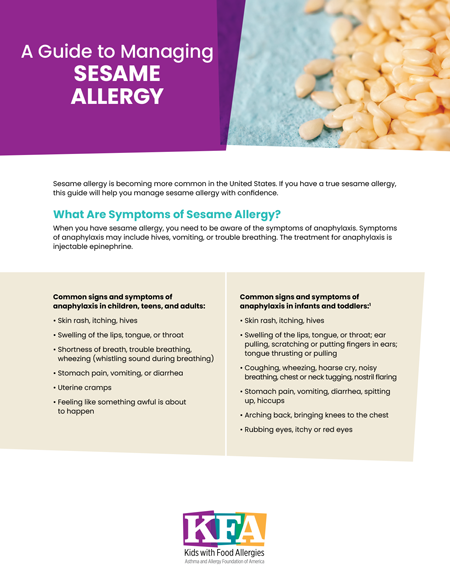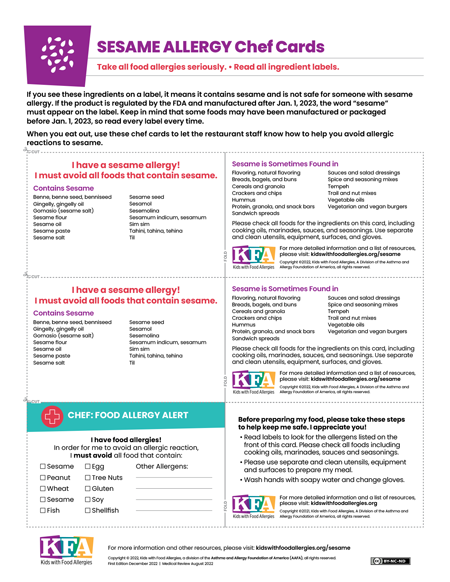 We are working with industry representatives to identify bakers and restaurants who are taking the appropriate steps to ensure the safety of the food allergy community and look forward to sharing those brands as well.
With improved, regulated, and evidence-based precautionary allergen labeling, AAFA believes we can both improve safety for consumers with food allergies and reduce liability concerns for industry. We are eager to work with industry, Congress, the Food and Drug Administration (FDA), and our food allergy allies to enact solutions that prevent potentially harmful manufacturing practices now and in the future.