Earlier this year, The National Institute of Allergy and Infectious Diseases' (NIAID), part of the National Institutes of Health (NIH), released new guidelines on how to feed peanut to infants to prevent peanut allergy.
Feeding peanut to your infant early may lower their chance of developing a peanut allergy. Before you start giving your child peanut-containing foods, you need to know when and how to do it. You should also discuss any concerns you have with your doctor before starting. Kids With Food Allergies has a resource to help you know when and how to feed peanut-containing foods to your baby. Download our free PDF Preventing Peanut Allergy: Introduce Peanut Foods Early to Your Baby.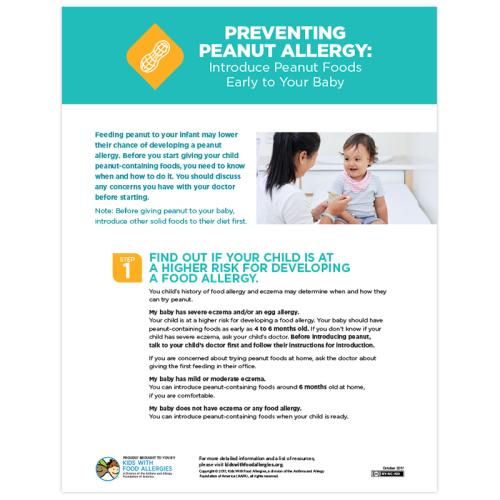 Kids With Food Allergies is sharing this press release from the 2017 ACAAI Scientific Annual Meeting to bring you the latest research news quickly.
---
[PRESS RELEASE]
BOSTON, MA (October 27, 2017) – Guidelines to help parents introduce peanut-containing products to infants to prevent peanut allergies aren't being discussed. New research presented at the American College of Allergy, Asthma and Immunology (ACAAI) Annual Scientific Meeting shows pediatricians are not only not having the discussion, they're not referring high-risk babies for testing prior to peanut introduction.
"Our study revealed that although pediatricians have been introduced to the new guidelines, they're not yet putting them into practice," says allergist Bryce Hoffman, MD, ACAAI member and lead author. "We sent surveys to 188 pediatricians, and received 79 back. Of those, 38 percent had a score of 1 or less (4 equals highest, 0 equals lowest) when it came to following the guidelines. In addition, 44 percent reported not referring high-risk children, those with egg allergy and/or severe eczema, for peanut allergy testing."
If a child is determined to be high risk, the guidelines recommend evaluation by an allergy specialist, which may involve peanut allergy testing, followed by trying a peanut containing product for the first time in the allergist's office. If the child is tested and found to have peanut sensitization, meaning they have a positive allergy test to peanut, that positive test alone does not determine if they're truly allergic. Peanut allergy is only diagnosed if there is both a positive test and a history of developing symptoms after eating peanut-containing foods.
"We recognize the idea of introducing peanut-containing foods to infants between 4-6 months is scary – especially for parents," says allergist David Stukus, MD, ACAAI member. Dr. Stukus is presenting on the topic of "Convincing Wary Caregivers, Colleagues and Staff of Why Early Introduction Works" at the ACAAI Annual Scientific Meeting. "We need to work with pediatricians – the first physicians who care for most babies – to help them become comfortable putting the guidelines into practice. We need to overcome the current barriers so all physicians who deal with infants understand that early introduction could lead to a new generation of children who have far less peanut allergy."
Moderate risk children – those with mild to moderate eczema who have already started solid foods – do not need an evaluation. These infants can have peanut-containing foods introduced at home by their parents starting around 4-6 months of age. Low risk children with no eczema or egg allergy can be introduced to peanut-containing foods according to the family's preference, also around 4-6 months.
ACAAI has more information on how to introduce peanut-containing products to infants in this video.
Abstract Title: What pediatricians are advising on infant peanut introduction
Author: Bryce Hoffman, MD, ACAAI member
For more information about allergies and to locate an allergist in your area, visit AllergyandAsthmaRelief.org. The ACAAI Annual Scientific Meeting is October 26-30, 2017 at the Hynes Convention Center in Boston, MA. For more news and research from the ACAAI Annual Scientific Meeting, go to our press kit – and follow the conversation on Twitter #ACAAI17.
About ACAAI
The ACAAI is a professional medical organization of more than 6,000 allergists-immunologists and allied health professionals, headquartered in Arlington Heights, Ill. The College fosters a culture of collaboration and congeniality in which its members work together and with others toward the common goals of patient care, education, advocacy and research. ACAAI allergists are board-certified physicians trained to diagnose allergies and asthma, administer immunotherapy, and provide patients with the best treatment outcomes. For more information and to find relief, visit AllergyandAsthmaRelief.org. Join us on Facebook, Pinterest and Twitter.
Join our community to follow our blog for the latest news on food allergy research and treatments. Our community also provides an opportunity to connect with others who manage these conditions for peer support.